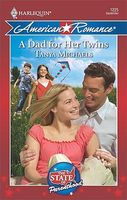 Series: State of Parenthood (GA)
New Job. New Home. New Dad?

When Kenzie Green relocates to Atlanta, she isn't looking for a man to complete her family. Then she meets her enigmatic new neighbor across the hall. Jonathan Trelauney seems to know just how to handle Kenzie's domestic handful. And her kids are already falling in love with the widowed artist.


Kenzie's twin son and daughter are shattering his peace...and JT loves every minute of it! They're slowly but surely bringing him out of his reclusive shell. Now he'd like to do the same for their independent single mom. Can JT make Kenzie see that he's a man she can count on? That he can be the husband and father her family needs?
Good book. Kenzie has moved to Atlanta to make a new and better life for herself and her kids. Her ex-husband was a musician who had not been reliable at all, and she had been the one who had to do everything. When she first met JT she thought he was just another flaky artistic type. When JT first met Kenzie and her kids, they scared him to death. He was still trying to recover from the deaths of his wife and baby, and being around them made him start to feel. I loved the way that JT began spending time with the family and slowly started to get back to his painting. It was painful at times to watch both Kenzie and JT as they would advance and retreat, but it was a great healing process.
Part of the Bestselling Author Collection