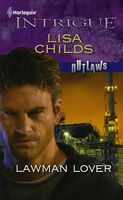 Series: Outlaws (Book 1)
There was a live body on her morgue table. Macy Kleyn hadn't expected to find a perfectly healthy Rowe Cusack lying inside a body bag. The man claimed to be a DEA agent who'd escaped from prison by faking his own death. But despite using a disguise, someone knew the truth. Now they wanted to keep Rowe locked up inside. For good.
Taking a civilian on the run went against Rowe's lawman code, but leaving Macy behind could mean putting her in even greater danger. On their own, they were targets, but together they might still have a fighting chance. It's a chance he's willing to take in order to protect the one person he could trust—and the one woman he was falling for.
Heartpounding beginning to this book. Rowe was desperate to get out before someone could kill him. Macy was terrified when the body in the bag was alive. She didn't believe his story about being undercover, but was too afraid to do anything about it. The more that happened, the more they realized that she was in danger also. I enjoyed seeing each step as they went along trying to track who was behind the corruption. I also really loved the way that Macy was a creative thinker, and had such success thinking on her feet. I'm looking forward to Jed's story.