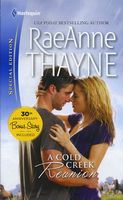 Series: Cowboys of Cold Creek (Book 10)
He was the one you called when you needed rescuing...

But who was Taft Bowman going to call when he needed help? Because ten years ago Laura Pendleton, the love of his life, had left town without a word, then or since. Now she was back, with a new last name -- and two adorable, high-needs little ones in tow. Well, Taft had been stupid enough to let her go once before...he wasn't about to make the same mistake again. He'd never stopped loving her -- and one look at those adorable little faces and he knew that he was meant to be with Laura and her kids forever. All he had to do was convince her that this time he was a man she could count on!
Very good book. I liked both Taft and Laura. Their breakup ten years ago had been contributed to by both. Taft was playing the stoic male, not allowing anyone to help him through the murders of his parents. The shutdown of his emotions pushed Laura away. At twenty-one, Laura couldn't handle that and gave him an ultimatum - to postpone their wedding or she would leave. Now she is back, and Taft has realized what an idiot he had been, and that he still loves her. Laura has brought her children and come home to recover from the death of her husband. He had not been a good husband, and she had no intention of opening herself up to another relationship. She did her best to keep herself apart from Taft, but found herself drawing closer to the man he had become. I loved the way she finally realized that she was still in love with him too. He was terrific with her kids, and a fantastic fire chief, all showing that he had changed from when she knew him before.