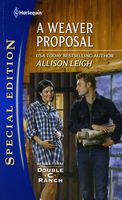 Series: Return to the Double C Ranch (Book 6)
"Don't call me Cupcake!"
Pregnant and on the run from a scheming ex, heiress Sydney Forrest came to Weaver, Wyoming, to take a man break…only to be confronted with the most exasperating of the breed. Derek Clay was condescending, rude—and so scrumptious she didn't know whether she should set down roots or run for the hills.
If Sydney thought she could lord her wealth over the locals and treat Derek like the hired help, she had another think coming. But he realized pretty quickly that there was a real woman—with real needs—lurking beneath Sydney's polished exterior. She'd made it clear she didn't want to be called "cupcake"—but would she object if Derek ultimately called her…"wife"?
Really good book. Sydney and Derek struck sparks off each other from the beginning. She thought he was rude and condescending and he thought she was a snob. Sydney had come to Weaver to try to change her life. She wanted to stand on her own feet and make a good life for her baby. She didn't want Derek bossing her around and trying to take care of her. Derek couldn't help comparing Sydney to his ex-fiancee. It took awhile, but he finally started to realize that they were nothing alike. When they finally stopped sniping at each other, they discovered that they had a lot in common. I loved the way Sydney became part of the community so quickly. It was great to see how everyone supported her at the end.