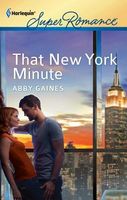 Rachel Frye plays to win. And this time the prize is a partnership at her Manhattan ad agency. She's up against some stiff competition -- including Garrett Calder, aka The Shark. Only one of them can win. Everyone else is out of a job.

Despite the stakes, suddenly Rachel's fantasizing about being on Garrett's team. Dying to find out what's under the brilliant executive's I-don't-need-anyone facade.


The attraction is entirely mutual -- a fact neither of them can ignore. And what started as corporate rivalry is about to get a whole lot more personal!
I loved this book. It gave a pretty good idea of the cut-throat world of advertizing, as well as the emotions of the players in the book. Rachel had worked her way up in the ad agency from the mailroom. Her projects were good, though perhaps a bit on the safe side. Garrett was fairly new to the agency, but experienced in advertizing and known for his flashy campaigns. They were pitted against each other in a competition for the partnership. Rachel was well known for her excellence as a team player, where Garrett was a loner who didn't deal with anyone. Both of them found that they were spending time checking each other out. Rachel was a person who prized stability, due to the fact that her parents kept moving them around when she was growing up. Garrett accused her of not being able to let go of anyone or anything. Garrett was a loner who kept himself apart from everyone. His father was a control freak who didn't approve of Garrett's professional choices. When Garrett found himself starting to feel things for Rachel, it scared him. Then his pregnant stepmother left his father and moved in with him and things started to get really weird for him. There were a lot of things that he did that made me really disgusted with him. The final presentation that he did really ticked me off, especially when he didn't see anything wrong with it. The final chapters brought me to tears in several places, and I loved the final resolution of the competition.