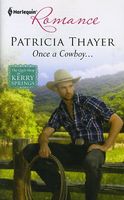 Series: Quilt Shop at Kerry Springs (Book 5)
Always the most gorgeous man in town…
That's how Alisa Merrick sees Kerry Springs's most unattainable rancher, Matt Rafferty. Alisa's a tough politician, but she's never forgotten their wonderful weekend together, or her heartbreak when he walked away….
Now Matt's back from the army and he's a changed man: quiet and closed off. Alisa can't help but wonder why—even though she's determined to steer clear. As she watches Matt adjust to civilian life, her old feelings surge up. For, deny it though she might, Matt will always be the cowboy for her….
Good book. I really enjoyed the story, and I love visiting Kerry Springs and seeing old friends. I liked Alisa a lot. I liked the way she wanted to use her possible time on the city council to help the town with its economic improvements. I especially liked the way she got behind the idea of reopening the Boy and Girls Club, and did everything she could to make it happen. When she and Matt had to work together to take care of an abandoned boy, she wasn't sure she could forgive him for the way he had walked away three years before. Her feelings for Matt had never gone away, but she wasn't sure she could handle getting involved with him again. Matt was trying to cope with his return to civilian life and the nightmares he brought with him. He also had trust issues with women, and preferred to walk away first, before they could walk away from him. Alisa wanted a life with him, but every time she would get close he would push her away. The conclusion was emotional, but I think their relationship will be stronger because of it. My only problem with the book wasn't with the story, but with the proofreading. I lost count of the number of errors that would pull me out of the moment.