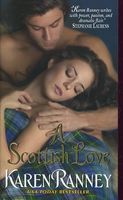 Shona Imrie should have agreed to Gordon MacDermond's proposal of marriage seven years ago -- before he went off to war and returned a national hero -- but the proud Scottish lass would accept no man's charity. The dashing soldier would never truly share her love and the passion that left her weak and breathless -- or so she believed -- so instead she gave herself to another. Now she faces disgrace, poverty, and a life spent alone for her steadfast refusal to follow her heart.

Honored with a baronetcy for his courage under fire, Gordon has everything he could ever want -- except for the one thing he most fervently desires: the headstrong beauty he foolishly let slip through his fingers. Conquering Shona's stubborn pride, however, will prove his most difficult battle -- though it is the one for which he is most willing to risk his life, his heart, and his soul.
Good book about two people with too much pride. Shona was doing her best with what she had, but refused to ask anyone for help. She had decided it would be best to sell the castle she and her brother grew up in to a rich American. When she went to Gairloch to prepare it for the visiting Americans, Gordon was there. He wants her still, but doesn't want to compete with her pride. Meanwhile, she is biting her tongue constantly so as not to alienate Mr. Loftus and his daughter. At the same time, Shona's brother Fergus is reunited with the woman he loved, who is serving as nurse to Mr. Loftus. He has too much pride to ask her to marry him when he is poor and crippled from a war wound. Elizabeth feels she is no good for him due to her past. Overall, I enjoyed this book. There were a couple really fun parts, like when Shona played the part of a ghost. I did want to smack her quite often for being so stubborn.