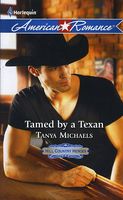 Series: Hill Country Heroes (Book 2)
Grace Torres has a lot to lose. And the Texas Hill Country restaurateur isn't letting Ty Beckett steal her thunder. He may be the Lone Star State's most famous bachelor chef, but Grace has a family legacy to save. She'll do whatever it takes to keep her beloved restaurant afloat...even go head-to-head in a reality TV cook-off only one of them can win.

Growing up dirt-poor just made Ty more determined to succeed. But he's facing some stiff competition. Grace may be the only female alive who sees past Ty's footloose facade and charming one-liners. She's also igniting more heat than a Mexican jalapeno.


Walking away with first place could give Ty everything he ever wanted. It could also make him lose the one woman who's ever come close to taming this culinary cowboy!
Excellent book. I really liked both characters. Ty came across as kind of arrogant at first, with his certainty that all he had to do is smile at Grace and she'd be all over him. I loved the way she would just ignore it. I enjoyed seeing him when he was giving in to wanting to be with Grace and actually being himself instead of the public persona everyone else sees. Grace was determined to win so she could save her restaurant. I liked the way she didn't really let the other people rattle her and be confident in her abilities. The times she lost her temper were fun to watch, and the way her brothers would almost cower when she went after them was hilarious. I liked the way that Grace could see through Ty to his real self, and the way she was there for him when he needed her. The conclusion was great. I could see a version of the solution coming, but it was still well done.