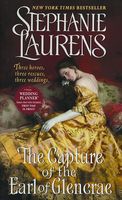 Series: Cynster (Book 21)
We joyfully request your attendance at the wedding of Miss Angelica Cynster ... but not until she and her hero lay to rest an ancient grudge in the Scottish Highlands!

Headstrong Angelica Cynster is certain she'll recognize her fated husband at first sight. And when her eyes meet those of a mysterious nobleman, she knows beyond a doubt that he's the one. But her heart is soon pounding for an entirely different reason -- when her hero abducts her!


The eighth Earl of Glencrae has no choice but to kidnap Angelica, the one Cynster sister with whom he hadn't wanted to tangle. But to save his castle and his clan, he must persuade her to assist him -- and he's prepared to offer marriage to seal the deal!
Fantastic book. I love Stephanie Laurens' books, and this was another terrific Cynster book. Angelica knew as soon as she saw him that she wanted the man that she saw across the ballroom. And being a Cynster woman, she went after him - only to find out that he was the mysterious Scotsman who had kidnapped her sisters. This time, Dominic explains the problem to Angelica who consents to help him. He has stated his intention to marry her at the end of the process. That is her wish also, but she refuses to consent immediately, as she intends to make sure he loves her first. I love Angelica, as she has the intelligence and determination to give him the assistance he needs. She is also able to assist him in avoiding her family. I love the parts where we see the Cynsters - men and women - as they try to figure out what is going on in their own ways. Watching as Angelica got to know Dominic's people, and they got to know her, showed how perfect she was for him. I also loved watching Dominic's confusion as he tried to understand her - he had no personal experience with Cynster women and he didn't know what to do. I loved the scene in Edinburgh with the purchase of her horse - it had me laughing out loud. Their trip to his home went pretty smoothly, then it was on to their attempts to get what they needed from his mother. Dominic was completely blown away by Angelica's acting abilities. The conclusion was classic Stephanie Laurens, and the epilogue was great.