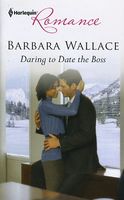 She's ruled out romance...

Liz Strauss is the queen of control. As a single mom she's got to be. But her attraction to new boss Charles "Ice King" Bishop throws oh-so-careful Liz into a complete tailspin. Suddenly her nightmares over her son's future have been replaced by dreams of romantic dates!


But her boss has other ideas!


It's been years since Liz has trusted anyone not to hurt her. Sharing sizzling kisses with Charles is one thing, but believing that his frosty exterior conceals a heart that will beat for her -- for always -- is quite another....
I really liked this book. Both Liz and Charles were control freaks. Liz felt the need to control her life and emotions in order to give her teenage son the best life she can. She doesn't trust anyone or anything to last. Charles inherited the company from a father he hadn't seen in years. His intention was to come in and prepare the company for sale as quickly as possible and get out. When Charles found himself being drawn into Liz's personal life and the life of the small town, he started to change and feel things he hadn't felt before. Liz also began to develop feelings for Charles that scared her because trust in the future came hard for her. I really liked some of the realism in this book. Liz's son Andrew acted like a typical teenager, and the attitudes of the coworkers to Charles seemed pretty accurate too.