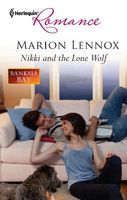 Series: Banksia Bay (Book 3)
Nikki Morrissy is in beautiful Banksia Bay for a fresh start. Even renting half a cottage from the town's lone wolf, enigmatic Gabe Carver, cannot distract her from focusing on her new life!

And Gabe is determined that, despite having to share his home with the undeniably attractive Nikki, he will keep to himself....


Until a scared and lonely dog, howling into the night, has them literally bumping into each other! As the pooch gazes up at them, Gabe and Nikki realize they'll have to work together on this one. Suddenly their plans to avoid each other are crumbling around them....
I loved this book. Gabe was such a grouch that he was almost unlikable, except I could see his pain. He didn't let anyone get close to him. He never let anyone thank him when he did something for them. Nikki had come to Banksia Bay to get away from her previous life, and had no intention of letting him mess it up. When they ended up rescuing a dog, they had to work together. Gabe didn't want to get attached to another dog, but Nikki needed his help. He tried to keep her at arms length, but she just wouldn't stay there. Nikki had no intention of letting another man close to her, but she knew nothing about dogs. She could also see that Gabe was hurting and wanted to help. I loved seeing the way the people of Banksia Bay were so helpful. The climax, when the whole town turned out to help, was incredibly moving.