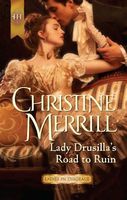 Series: Ladies in Disgrace (Book 2)
Considered a spinster, Lady Drusilla Rudney has only one role in life: to chaperone her sister. So when her flighty sibling elopes, Dru knows she has to stop her! She employs the help of a traveling companion, who looks harmless enough....

Former army captain John Hendricks is intrigued by this damsel in distress. Once embroiled with her in a mad dash across England, he discovers that Dru is no simpering woman. Her unconventional ways make him want to forget his gentlemanly conduct...and create a scandal all their own!
Good book. I really liked both John and Dru. Dru had taken off after her sister, to stop her from a scandalous elopement. She didn't realize how difficult and potentially dangerous it could be. After John left the employ of the Earl of Folbroke, he got on a coach headed for Scotland - not the one he intended to take. When Dru ran into some problems with another passenger, he came to her rescue. He then agreed to help her stop her sister. Dru was the older sister who was basically ignored for everything except watching over her sister, and had a very low opinion of her own attractiveness. John found her attractive from the beginning, but knowing of the difference in their stations, tried to fight it. He found her wit and willingness to endure hardship on their quest even more appealing. Dru found him attractive too. I loved what happened when they caught up with Priscilla. I also loved the reactions of the Folbrokes when John went to see them.