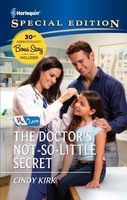 Series: Rx for Love (Book 6)
Pediatrician Kate McNeal thought she had it all. But the one thing she longed for -- the child she'd given up for adoption nine years earlier -- remained just out of reach. So when she learned the girl was living with her adoptive father in Jackson Hole, Kate moved her practice lock, stock and stethoscope, to be close to the daughter she'd never forgotten.

Joel Dennes used to think he had it all -- until tragedy tore his family apart. Now the single dad needs help with his little girl, and the new doctor in town seems like the perfect woman for the job -- and soon he thinks she may be the perfect woman for him! But when Kate's secret comes out, will the betrayal be the end of their fairy-tale ending?
Good book. Kate came to Jackson Hole to find out what had happened to her daughter. She didn't expect to end up with her as a patient. She also didn't expect to be thrown into almost constant contact with Chloe's father Joel. Joel was finally starting to recover from the death of his wife. As he did, he began to notice Kate more as a woman than as Chloe's doctor. He still didn't feel right about the possibility of loving another woman, and Kate couldn't see having a relationship with Joel with her secret hanging over her head. But they also couldn't resist spending time with each other. I loved the way they told Chloe about Kate, and how good Kate was with her. The way that both Kate and Joel were reminded about the reason for the adoption was very well done.