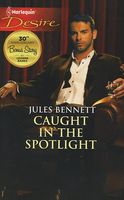 A True Hollywood Love Story?
Who's the exotic beauty on the arm of mega-hot ladies' man Bronson Dane? Word is she's Mia Spinelli, recently rumored to be the mistress of her former boss—and Bronson's longtime industry rival. Now she's the personal assistant to Bronson's mother. Is Mia getting "personal" with Bronson, too? He's been spotted escorting her into a Hollywood doctor's office, and Mia has a noticeable baby bump. Has the sultry assistant managed to get under the playboy producer's skin—and into his bed?
Good book. Mia had come to work for Bronson's mom, from working for his greatest rival. Because of his past with his ex-fiancee, Bronson did not trust Mia at all, but was physically attracted to her. When they gave in to their passions one night, Mia ended up pregnant. Due to his trust issues, Bronson had a hard time believing the baby was his. He also had a feeling that Mia was hiding something from him. She was -- she had come across some information, but was asked to keep it secret until the right time. As the weeks went on, Bronson found himself falling for Mia, and able to believe that the baby is his. Mia has also fallen for him, but keeping the secret is tearing her up. When it all comes out Bronson feels betrayed by Mia and his mother. Mia refuses to give up hope, but Bronson has a hard time coming to grips with the information and Mia's part in it. I hope there will be stories for the other two very soon.