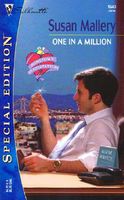 Series: Hometown Heartbreakers (Book 9)
YOUR BED...OR MINE?
Single mom and B & B owner Stephanie Wynne lived without stopping, until FBI Agent Nash Harmon showed up as her guest...and the star of her passionate fantasies. When he kissed her for real, Stephanie set some ground rules to avoid the messy complications of relationships with men. Sexy pillow talk was fine, but love...?
Nothing surprised Nash, until Stephanie's lively and quirky attitude brought out the beast in him and made his hormones rage out of control -- not to mention his steely emotions. Nash experienced an intimacy with Stephanie that stunned him. Of course, he agreed to a no-strings relationship with her, but his mission soon changed into a burning desire for matrimony!
Fantastic book. Nash had come to town to meet some half brothers he hadn't known he had. When he finally met them, as a group they were overwhelming with all the spouse and kids. While staying at Stephanie's B&B, he began to experience feelings he didn't know he could have. He had always been one to keep a lid on his emotions. Stephanie was an open, fun loving single mom who was very independent. She'd had a bad marriage with a man who was irresponsible and wasn't interested in any more relationships. She had three sons to raise and that was enough for her. Almost immediately she felt an attraction to him that she'd never felt for anyone before. He felt the same for her, and was also drawn to her sons - something he'd never experienced, not knowing anything about kids. He was only going to be in town for a couple weeks, and they decided to indulge in a no-strings affair. It wasn't long before they both wanted more! I loved the way that he automatically helped with things like dishes, cleanup, and even offering to help her paint. She wasn't used to that and wasn't sure how to cope. I also liked the way she and the kids went to family get-togethers with him to help him cope with the chaos. I thought the final scene at the pool was fantastic.
This was in the Bestselling Author Collection anthology