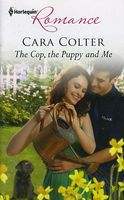 Jaded cop Oliver Sullivan moved to picturesque Kettle Bend to leave behind bad memories. Locals leave him alone -- until a video of him rescuing a drowning puppy goes viral, making him a celebrity!

Sarah McDougall sees it as a perfect opportunity to promote the struggling town. But when she interviews the gruff cop, he's not the warm, caring hero she expects. Instead he claims to dislike dogs and distrust love. He's wrong on both counts -- and she plans to prove it to him!
Very good book. Oliver had isolated himself from everyone except his sister's family. He hated being a celebrity because of rescuing the dog. When Sarah tried to get him to help out with the town festival because of it, he did his best to chase her away, but she wouldn't go. She just kept going back, using everything she could to get him to cooperate. To his surprise, pretty soon he liked it, and found himself falling for her. This scared him because he didn't want the darkness he felt inside him to bring her down, so he withdrew from her. Sarah fell for him and knew that he was not as bad as he thought he was. I loved seeing Oliver relax and start to have fun. I really enjoyed this story because Sarah and Oliver were ordinary people with ordinary jobs, which made the story seem so real. The dog was fantastic!