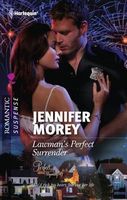 Series: Perfect Wyoming (Book 4)
The heat between them is instantaneous. Irresistible. But police deputy Ford McCall has a job to do. And no self-respecting lawman would let a woman, even a sexy brunette like Gemma Johnson, distract him. He knows that evil has come to rural Cold Plains. And if he doesn't want the petite newcomer to be involved, he can't take that risk.

Gemma Johnson never saw it coming. She fled from an abusive marriage and thought she'd gotten away. Now her violent ex has come after her, and by Ford's side, she's stumbled into an even larger plot. Everything screams for her to turn to the rugged lawman. But desire can lead to danger, and there's only so much her vulnerable heart can take....
I have really liked Ford throughout the series. He is one of the few residents who hasn't fallen for Grayson's brainwashing. I loved watching him as he stood up to the sheriff while doing police work the right way. When he is assigned to protect Gemma from her ex, the attraction between them explodes. While the attraction was a good thing, I found their constant lack of control a bit off-putting considering the danger they were in. It was interesting to see how Gemma's liking of Grayson began to erode the more time she spent with Ford and the more she saw what was going on in the town. In the side story, I really liked the way that Dillon stood up for his mom and protected her.