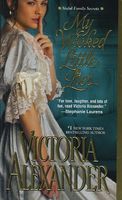 Series: Sinful Family Secrets (Book 2)
Evelyn Hadley-Attwater has it all -- a genteel Victorian life replete with loving husband, ball gowns and elegant parties. No one, including the man she married, suspects that she was once "Eve," a spy for England's most enigmatic intelligence agency. Summoned for one final assignment, the excitement of her former life and memories of her mysterious, flirtatious boss "Sir" prove too tempting...

Adrian Hadley-Attwater is a respectable, dignified gentleman. But even the most proper gentlemen have secrets of their own. Secrets from the rest of the world, from their families, from their wives. Secrets that have a price. Now, as a veil of secrecy frays, a tantalizing game of cat and mouse will test the bounds of unfailing love...
Very good book. There aren't very many romances where the book starts out with them married. I really liked both characters. Their love for each other was strong and obvious. Their biggest difficulty was in their past lives as operatives. Adrian knew about hers, though she didn't know that. She didn't know about his. When she got sucked back into her former life, it caused a strain on their relationship. Adrian didn't know what she was doing, and his insecurity caused him to jump to unwarranted conclusions. The book was full of misunderstandings, paybacks, and some truly humorous moments.