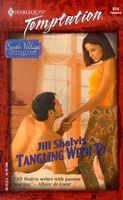 Series: South Village Singles (Book 2)
Dr. Nicole Mann is simply too busy for romance. Her work as a surgeon consumes her entire world and she prefers it that way. That is, until she meets too-charming-for-his-own-good Ty O'Grady. This sexy architect with his enticing Irish accent has her thinking of something other than medicine. So she'll prescribe herself an intense -- but temporary -- round of seduction to cure this Ty fever once and for all.

Stubborn, strong and entirely too desirable, Nicole is Ty's match. When one hot touch leads to another, and another, this footloose drifter suddenly is thinking of a relationship with a design to forever. So he's pulling out all the sensual stops and will do anything to show her a temptation that's irresistible!
What a fun book. Nicole is a single minded doctor who doesn't do relationships. She finished high school at 12 and immediately went on to college and medical school. She never learned how to act in social situations and is therefore more comfortable working - which she does a lot. When she meets Ty, her world is thrown off-kilter. Ty is a footloose kind of guy that moves around a lot. He grew up in Dublin, mostly on the streets, and never lets anyone get close to him. But Nicole gets under his skin, and that scares him to death. He sees things in her that he recognizes, and she sees past his facade. I loved the part where she was caring for him after he fell through her ceiling - such a stubborn man!
Part of the "Kiss Me, I'm Irish" anthology.