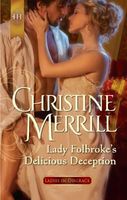 Series: Ladies in Disgrace (Book 1)
Emily Longesley married the love of her life and hoped that he would learn to love her. Instead, he upped and left their country estate for London. Suffering the snub with dignity, three years on Emily has had enough!

Confronting her errant husband, Emily sees that Adrian, Earl of Folbroke, has been robbed of his sight and doesn't know her at all! Emily longs for her husband's touch. If she plays his mistress by delicious deception, can he finally learn to love his wife?
I really liked this book. When Emily came to London to finally confront her husband about his neglect, she did not expect to find him blind and doing his best to kill himself. He didn't recognize her when she found him in the tavern, so she decided to take advantage of that and become his mistress in an attempt to make him fall in love with her. She also couldn't stand to see him in such a hopeless condition and decided to use her position to show him that he could still have a good life. At the same time, Adrian had spent the last couple years avoiding everyone and drinking to dull the pain of losing his independence. When Emily rescued him, she bullied him into making changes in his lifestyle, and he began to see that perhaps his life wasn't ending after all. He also began to realize that he still loved his wife, and what he had done to her by abandoning her. I loved seeing her efforts and the way they paid off, even though I could see where it was going to cause problems when the deception ended. The confrontation brought me to tears, but the ending was worth it. I'm looking forward to the next one in the series.