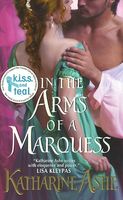 Series: Rogues of the Sea (Book 3)
She'd never forgotten him...

Miss Octavia Pierce is witty, well off, and shockingly unwed. Still, she is far too successful in society to remain on the shelf forever, and her family hopes she will finally make the perfect match. What they don't know is that years earlier Octavia was scandalously tempted by the one man capable of sweeping her off her feet -- the man now known as the Marquess of Doreé.


A third son, never meant to inherit, Ben Doreé has abandoned his past and grown accustomed to his illustrious new position of wealth and power. But he has never forgotten Octavia, and now she desperately needs his help in a most dangerous, clandestine matter. Although she claims she has put the memories of the passion they shared behind her, Ben is determined to once again have her in his arms -- and in his bed.
Good book. I enjoyed the story, and following the trail to find out who is blackmailing Crispin and why, and the real story behind the fire that killed Ben's father and brother. I liked both Ben and Octavia. I could see right away that their attraction and feelings were real. When they were separated in India by Octavia's aunt, I could see why that happened -- they were still too young for a really good relationship. They were also still too immature to deal with the doubts put forth by their families. When they met again in London, years later, they were finally ready. But there were still issues to be dealt with -- Ben was told lies about Octavia's wishes, so he didn't know whether he could trust her. Octavia could see that Ben had secrets that he was not sharing with her. Octavia was dealing with a man who wanted to marry her and had no problem announcing their engagement without her consent. She also wanted to help him about the blackmail. Ben was investigating several things, but keeping secrets from Octavia that were creating strain between them. The story kept me turning the pages, but wasn't quite as intense as some I've read. It won't stop me from reading more by this author.