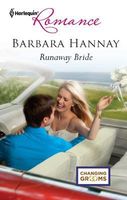 Series: Changing Grooms (Book 2)
Your gorgeous ex roars up in a red sports car and offers to sweep you away from the mess you've made of your life.... What would you do?

With her wedding dreams in tatters and the local grapevine ablaze, Bella Shaw is getting out of town and speeding across the country with delicious, dangerous Damon Cavello. Bella's been playing it safe for so long -- but not anymore. It's high time she faced up to her past -- and with Damon by her side, that time is now!
Fun book. I really liked both Bella and Damon, though both had their issues. Bella finally realized that she didn't love Kent and they called off their engagement. When Damon appeared and told her that her grandfather and his grandmother had disappeared together, she made the decision to go with him to find them. This got her out of town and away from gossip, but put her in close contact with her first love. Bella had been playing things safe for a long time, and this was her chance to break out for a bit. Damon couldn't believe he had suggested she come along. He had left her all those years ago to protect her from himself. Now he was seeing glimpses of the girl she used to be, and knew he had never stopped loving her. Both of them were trying to protect themselves and nearly gave up their chances for their happily ever after. I loved the epilogue!