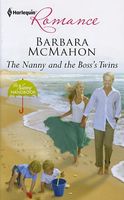 Series: Nanny Handbook (Book 1)
Stacey Williams loves children and travel -- so accepting gorgeous Luis Aldivista's offer to look after his adorable twin boys on the Spanish Riviera is a no-brainer.

All widower Luis wants is to see his boys smile again, but Stacey's zest for life is catching! Stacey knows she can get the boys to giggle, but it will be much harder to get the darkly brooding Luis to open up. She's just the temporary nanny, but now Luis wants her to stay...as permanent nanny...or wife?
Good book. I liked the concept of the vacation nanny, and Stacy fit it very well. Her love of travel and children made her perfect for this assignment. I loved the way that she and the boys took to each other right away. She was able to get them to behave and be happy on their visit to their great-grandmother. When the trip first started, Luis was very aloof and focused on his business, intending to leave the boys to Stacy's care and work most of the time there. Shortly after arriving in Spain, he began to realize that he was attracted to her. He did his best to ignore it, as he never intended to put himself at risk of the pain of losing someone he loved again. His grandmother refused to allow him to work through the vacation, and Stacy also made sure he spent time with his sons. He came to realize that he was doing to them what his father had done to him, and made a vow to change. Stacy fell in love with him as she saw how good he was with the boys, and as the two of them spent time together. But she could tell that he would not plan a future with her, and resigned herself to never seeing them again. I also enjoyed the way that Stacy fit in so well with his family. I really liked the way that things were resolved at the end.