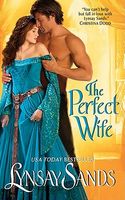 It was to be hoped that her groom was partial to cherries. For Avelyn feared she would very much resemble one at their wedding feast. Too round, too red in the scarlet gown that was all she could fit into ... and perhaps too tart for his taste? No doubt he longed for a sweet, biddable bride, one who was as tiny and trim as she was trying to appear.

Paen Gerville longed for a lively, well-rounded woman, one whose plump breast would cushion his head after the lonely, harsh life of a solitary fighting knight. At first his wife-to-be promised no such delights--her form was unbending, her health apparently fragile as she fainted his arms after their first kiss. But one split bridal gown later, her assets were eye-poppingly apparent and Paen could only grin as he anticipated the surprises yet to come on his wedding night with ...The Perfect Wife.
Very good book. Avelyn had some serious self-esteem issues thanks to her cousins. She was curvier than she thought she should be so she tried to hide that from Paen at the wedding. When her gown split and her true self was exposed she was embarrassed. I loved Paen because she was exactly what he wanted. His biggest problem was that he didn't really know how to tell her. He was a knight who had spent years fighting, not learning how to relate to women. They also had the problem of accidents that kept happening to Avelyn. He thought she was just clumsy. I loved when they moved to their new home and Avelyn's abilities became obvious as she brought the castle to order. I also thought that Paen was wonderful when he figured out how to help Avelyn accept how valued she was. The conclusion, with the resolution of the accidents, was wonderful. I love the humor that I always find in Lynsay Sands' books.