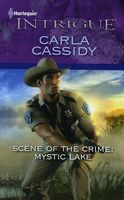 Series: Scene of the Crime (Book 4)
When FBI profiler Amberly Nightsong is sent to Mystic Lake to consult with local cops about three ritualistic murders, the last thing she expects is to be a piece in a madman's sick puzzle. Luckily, she has a sexy lawman on her side.

Sheriff Cole Caldwell offers his protection -- and stirs an awareness that leaves her breathless.


Cole, a widower, had shut himself off from the possibility of loving again. But as he works side by side with the single mom, he's drawn to Amberly and will do anything to erase the fear in her eyes. And as the danger intensifies in the form of a killer's twisted calling card, his vow to keep her and her young son safe will be put to the ultimate test....
Good book. Both Amberly and Cole had given up on love. Cole because of the guilt he felt over his wife's death, and Amberly because she didn't think it would last. When she was called in to assist with the murder investigations, she and Cole had to work together. He wasn't thrilled because he had had a bad experience with the FBI. He also discovered that something about her got under his skin and made him start to feel again. When the serial killer went after Amberly, Cole realized that he had come to care for her. Now, he just needed to convince her. The suspense was good, trying to figure out who did it was challenging.