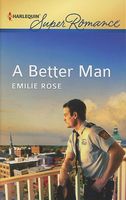 Series: Count on a Cop
Roth Sterling is a straight shooter, a guy you want on your side. As a soldier, he defended his country. As a cop, he upholds the law. For a kid who grew up on the wrong side of the tracks, he's done well for himself. Now he's back in his hometown, only this time, he's the new police chief.
He's in for a few surprises, however. Piper Hamilton -- the girl he loved -- still has the power to move him. And they are tied together thanks to the son he didn't know he had. Roth is determined to do right by Piper, whatever it takes. Even if it means becoming the one thing he never thought to be -- a family man.
Very good book. Roth has returned to Quincey, a town he swore he would never come back to. He grew up with a physically abusive father who ended up in prison. Now he's getting out and planning to move back with Roth's mother (who swears his dad has changed). Roth has taken over as police chief (Piper's dad's job before his stroke) so that he can be there to protect his mother. Roth had been in love with Piper when they were in high school. Piper's dad forced Roth to leave town, but not before Roth found out that Piper was pregnant. This terrified him because he never wanted children, thinking he could turn out like his dad, so he told Piper to take care of it and left. He ended up joining the Marines, then becoming a cop before coming back. He didn't know that Piper had had the baby. Now he has to deal with a town that doesn't want him taking the old chief's job and Piper who is still angry at him and doesn't want her son to know that Roth is his father. Their explosive attraction is still there, and now Roth feels that maybe he can have it all. I really liked both Piper and Roth. Piper has spent the last twelve years raising her son in her hometown. She told people he was the son of her dead fiancee, never expecting Roth to show up in town again. She doesn't want her son around Roth, but it's a small town and they end up spending a lot of time together, especially once Roth learns the truth. Piper is sure that Roth will not stick around and doesn't want Josh getting attached then being hurt the way she was. She does everything she can to keep them apart. But Josh gets attached anyway, and Piper comes to see that Roth is having a good influence. I liked her protectiveness, but I had a hard time with her tunnel vision in regards to his work in the Marines. She could not accept the fact that his missions during war did not indicate that he was a violent person. I was glad to see that she finally saw the light by the end. Roth was a terrific character. Except for his stupidity in the way he left Piper, he did a fantastic job of turning his life around. Even though he was blackmailed into enlisting by Piper's dad, his time in the Marines gave him the tools he needed to move past his beginnings, as did his move into law enforcement. When he came to town he had to overcome his hellion reputation and deal with the people who resented him taking the job. I liked the way that he went to various people from his youth and cleared the air. The time he spends with Piper's dad was especially good since there was the most animosity there. He was still not planning to stay in Quincey, but the closer he got to Piper and Josh the more the idea appealed. I also liked the way that he made the police chief's job his own by doing the right thing for everyone, not playing favorites like some of the old timers did. He also used the skills he learned as a Marine to come up with solutions for dealing with various problems. His interactions with Josh were fantastic. He had a great way of relating to Josh that showed what a terrific father he would be. I also loved the way he was working so hard to let Piper know how much he regretted being such an idiot all those years ago. He obviously wanted the full relationship with her, even if it took a long time for him to see it himself. I liked the way that things worked out in the end, with even Piper's parents solving their problems. I must say that Marines are at the top of my list as favorite heroes, and Emilie Rose did an outstanding job with this one.