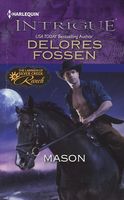 Series: Lawmen of Silver Creek Ranch (Book 6)
It wasn't the first time danger had come to his ranch, but for Deputy Mason Ryland it was the final straw. Someone had been targeting his family for too long and the brooding lawman now had a new person to protect: horse trainer Abbie Baker.
His newest employee's arrival suspiciously coincided with the latest attack, and it wasn't long before he uncovered a decades-old secret between Abbie and the Ryland clan. But as much as that connection rankled, Mason couldn't ignore the fact that someone wanted beautiful Abbie dead. As an upholder of the law, he'd keep her safely tucked by his side through the investigation. As a man, he'd offer his personal protection through the endless summer nights.…
Very good book and conclusion to the series. When Mason hired Abbie as a horse trainer he didn't expect her to be a target in the latest problem his family was having. When he discovered that she had a long standing connection to his missing father he and his brothers were furious. But that didn't stop him from doing his best to protect her. There is also an intense attraction between them that he does not want to have, but he can't help himself. Mason and his brothers worked to discover just who is behind the attacks and why they are happening. Their father returns to Silver Creek to help stop the attacks. The Rylands don't want anything to do with him, but he has information they need to solve the mystery. The final showdown is tense and satisfying in its conclusion. I liked both Abbie and Mason. I loved Abbie's loyalty to Boone, even in the face of the Ryland's fury. She was sure that there was a connection between his disappearance many years before and the trouble they are having now. Her feelings for Mason develop quickly, but she is sure they won't go anywhere because of her connection to Boone. I loved the way that she tried to protect Mason from her problems, and how she tried to show him the truth about Boone. Mason was terrific too. He was immediately attracted to Abbie, but her connection to his father made him furious. Even with that, he couldn't stop the need to protect her. I loved seeing how being with her, even in the midst of turmoil, lightened the darkness in him. He smiled and even laughed around her, which is something I don't think I saw him do in the other books. She was also able to open his eyes about his father and make him look at things in a different way. I loved the final scene at the hospital.