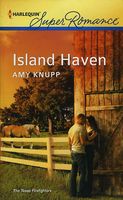 Series: Texas Firefighters (Book 5)
Mercedes Stone has no time for men. Between caring for her sick grandmother, running her own business and volunteering at her family's women's shelter she barely has time for herself. So dating a man as complicated as Scott Pataki is definitely out of the question.
That doesn't mean she'll turn her back on Scott's pregnant teenage sister. Even if helping her does put Mercedes dangerously close to the temptation that is Scott. It's not just the killer abs and dimples that make him so irresistible. It's the man she sees when his guard is down. If only she could help him realize the importance of family. And remind herself that his family doesn't include her.
Good book. Mercedes is helping Scott's teenage half sister. Gemma needs a place to stay, but Scott has already said no once. When Mercedes confronts him, he is somewhat distracted by an attraction to her and ends up letting Gemma stay. As Scott will only be there six more weeks, he figures he can handle it. Over the next several weeks they end up spending some time together and the attraction grows. At the beginning of the book Scott is really obnoxious. He is rude and antisocial. As the book goes on we find out that he has anger issues that have been caused by his father's infidelity and its effects on the family. These issues have also caused his extreme negativity, to the point that it has affected his attitudes as an EMT. He is planning to leave and take a job on a cruise ship, leaving everything behind. As Mercedes finds these things out, she also sees that Scott is actually a very caring man who feels things deeply. He doesn't know how to deal with the feelings and this is what causes most of his troubles. Mercedes has her own set of issues, mainly being an overwhelming sense of responsibility. She takes care of everyone else rather than dealing with her own feelings. I liked the way that he finally hit the bottom and realized that it was his choices that caused the way his life had been going. I thought that his final solution was just right for the direction his life should go.