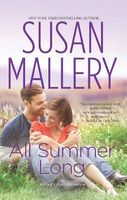 Series: Fool's Gold (Book 9)
Former underwear model turned entrepreneur Clay Stryker has loved, tragically lost and vowed that he'll never risk his heart again. After making his fortune, the youngest of the rugged Stryker brothers returns to Fool's Gold, California, to put down roots on a ranch of his own. But he's frustrated to discover that even in his hometown, people see him only for his world-famous…assets.
Firefighter Chantal (Charlie) Dixon grew up an ugly duckling beside her delicately beautiful mother, a feeling reinforced long ago by a man who left soul-deep scars. Now she has good friends, a solid job and the itch to start a family -- yet she can't move toward the future while she's haunted by painful memories.
Clay finds an unexpected ally, and unexpected temptation, in tomboyish Charlie, the only person who sees beyond his dazzling good looks to the real man beneath. But when Charlie comes to him with an indecent proposal, will they be able to overcome their pasts and find a love that lasts beyond one incredible summer?
Excellent book, my favorite of this trilogy. I loved seeing the personal growth in all the characters. Clay had come back to Fool's Gold to start a new stage of his life. He is done with modeling and is ready to put down roots. He has plans for a new business and is looking forward to getting it off the ground. He puts together a fantastic presentation about it that blows his brothers away, as they had spent years giving him no respect about his career. Then he took it to the town council who also liked it very much. His biggest problem is that people still look at him as the model, not a serious businessman. It is going to be an uphill battle for him to overcome what people think they know about him. When Clay met Charlie she was not impressed by him at all. She doesn't trust good looking guys, and Clay is well past good looking. But she gets a chance to get to know him and realizes that he is more than just a pretty face. She hears people talking about him as though his looks are all that there is to him. She has also had issues with people talking about her looks, but the other way. She is a tall woman, rather tomboyish, but well liked by everyone in town. Charlie also wants to settle down and have a family, but hasn't been able to get close to a man since college. She goes to Clay with a proposition - she'll help him with his image if he'll help her with her problem. I really loved Clay. He was a really nice guy throughout the whole book (except for one brief part at the end). I loved the way he was so careful and patient with Charlie, helping her learn to trust and be intimate. On the way they find that they really like each other and enjoy spending time together. I loved seeing Clay join the fire department as a volunteer, and the way Charlie accused her fellow firefighters of discrimination when they thought he wouldn't be serious about the job. I liked the way that they moved from the mutual assistance pact to actually dating each other. They got to know each other so well that when Clay was having problems with his business Charlie was able to get him some help with just a few words to some friends. It showed Clay how the people of Fool's Gold looked out for and supported each other. I also loved the way that Clay was there to support Charlie as she worked at getting to know her mother. I had some problems with her mom at first, but I really enjoyed seeing her grow as a mom. I loved the way she was there for Charlie at the end, and the way she helped both Charlie and Clay at the very end. I really like the way that the people of Fool's Gold seem so real, with real problems and logical solutions.