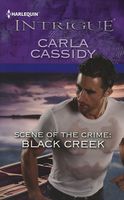 Series: Scene of the Crime (Book 5)
Baiting a serial killer is risky enough. But FBI Special Agent Mick McCane knows he's in real trouble when he and by-the-book Cassie Miller have to pose as loving newlyweds to do it. Ever since their one sizzling night together, she's determined to keep their relationship strictly business -- even as an undeniable attraction pulls them deeper into their undercover personas. Then their real identities are discovered and the hunters become the hunted. Now, the only way for Mick to protect the woman he can't live without is to sacrifice the life he was used to putting on the line -- and the badge he never thought he'd have to.
Good book. Mick and Cassie are assigned to work together undercover as newlyweds. They had had one night of passion together before Cassie insisted everything be strictly business between them. Now they have to act like newlyweds while trying to draw out a killer. The attraction is still there, but Cassie doesn't want to do anything about it. As they get deeper into their search, attempts are made on Cassie's life. Their attraction also continues to grow and they must decide on whether to act on it. I really liked both Mick and Cassie. Both had some issues they had to overcome. Mick was the youngest in his family and was constantly being mothered by his sisters. As a result he never really had to be responsible for many things. He tended to rely on his charm for many things, and was pretty casual about things like being on time. This seemed odd to me for someone in such a job as an FBI special agent. I did like the way that he was drawn to Cassie, even though they were so different. He was sure that they could have a relationship if they just tried. I also liked the way that he challenged her to step outside her comfort zone. Cassie was a somewhat strange character. I really liked her, but I don't understand how she became an FBI agent. She was so rigid about schedules and lack of change that I don't see how she could handle being on an assignment that she might have to think on the run. I did like the fact that she did work with Mick on being able to do her undercover assignment effectively. She also started to relax a bit and realize that maybe she could do things that were different. When the final confrontation with the killer came, she finally started to see what her life had been like and that maybe she could handle some change after all. I loved the epilogue, especially the walk down the aisle.