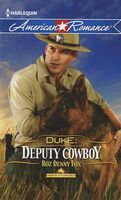 Series: Harts of the Rodeo (Book 3)
Deputy sheriff and aspiring rodeo star Dylan "Duke" Adams has his hands full with the recent string of burglaries in Roundup, Montana, especially when the thief strikes at his family's ranch. Duke is trying to focus on the case, but he can't stop thinking about a different thief -- the petite blonde who just stole his heart.
Angie Barrington can't stand the rodeo. Though she's seen plenty of abused rodeo animals at her rescue ranch, for Angie it runs even deeper. No matter how kind and compassionate Duke is, at the end of the day he's still a cowboy. Right?
When Duke makes it to the national finals, he finally has a chance to bring prestige -- and much-needed money -- to Thunder Ranch. But if competing means losing the woman of his dreams, how can he ever win?
Very good book. Duke is working hard to find the thieves and also to help with the local rodeo. When he meets Angie he is immediately attracted to her and taken with her son. Angie runs her own business and is a single mother to her son. Luke's father had had no interest in being a husband and father and only wanted to pursue his rodeo career. Angie also runs a rescue ranch for abused animals, many of whom came from rodeos, which has caused her to be very anti-rodeo. When Duke befriends her son, that softens Angie's attitude some. Duke works very hard to show Angie what they could have together. I really liked Duke and Angie. Duke was a real sweetheart with the way he stepped in to help Luke with his stuttering and to help him and his friends get ready for the kids' event at the rodeo. I was impressed with how much patience he had and how he was able to relate to Luke. I also loved the way he would step in to help Angie with her business whenever he had a free moment. He didn't try to take over or tell her what to do, he was just there to help. I really liked the way that Angie worked so hard to give Luke a good life. You could see her worry over his stuttering. I liked the way that she accepted Duke's help with him, even though she had reservations about his rodeo activities. I could see why she had her attitude about rodeo, but I thought she could be a little more open minded. I liked the way things worked out for them in the end. I also enjoyed the closeness of the Hart family and the way they are there for each other.