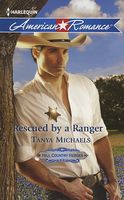 Series: Hill Country Heroes (Book 3)
Alexandra Hunt is living a lie. In fact, that's not even her real name. But after the death of her estranged husband, Alex and her four-year-old daughter were at the mercy of ruthless people: her powerful, possibly crooked former in-laws. When they came after her child, Alex saw no choice but to flee. Small town Fredericksburg, Texas, offers unexpected sanctuary. Until she meets her next-door neighbor, by-the-book -- and devilishly handsome -- Texas Ranger Zane Winchester!
Single father Zane has to admit he has a thing for sweet, pretty Alex. Yet while the attraction is mutual, she's definitely hiding something. And Zane can't abide a liar. He needs to find out Alex's secrets before he can truly allow her into his and his teenage daughter's lives. But when he discovers the truth, will he help Alex -- or turn her in?
Very good book. Alex took her daughter and ran to protect her from her former in-laws. She ended up In Fredericksburg, trying to live quietly and not draw attention to herself. Everything was going great until she met Zane. Her daughter thought he was terrific, and Alex was certainly attracted, but he's a Ranger and she doesn't dare let him get close. Zane is trying to repair his relationship with his teenage daughter and not having a lot of luck with it. He sees how well Eden relates to the little girl next door and asks Alex if she can help him. It doesn't hurt that he is very attracted to Alex and wouldn't mind getting to know her better. But as they get closer, he senses that she is hiding something and that bothers him. He has no use for liars and he's afraid of what he might find out. I really liked Alex and Zane and their girls. Alex knew she wouldn't stand a chance against her in-laws which is why she ran. She is very attracted to Zane and really likes his daughter. She is terrified that Zane will discover the truth and turn her in. Zane is a pretty straightforward guy. He considers everything in right or wrong terms, with no room for gray areas. But the more time he spends with Alex, and the more she helps him with his daughter, he sees that not everything is that straightforward. When he discovers the truth about Alex he is furious, but doesn't want to cause her more problems. I liked the way that he helped her see what had to be done, and helped her get the assistance she needed. The conclusion of her fight was great. I also loved how realistic the two girls were. I could completely believe their actions and attitudes.