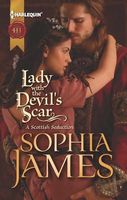 Badly disfigured Lady Isobel Dalceann has fought fiercely to defend her keep, with little thought for her safety. Why, then, has she let a stranger within her walls? While he threatens danger, his battered body marked by war mirrors her own scars and tempts her to put her faith in him.
Marc de Courtenay is a mercenary and a loner, although he is drawn to damaged -- beautiful -- Isobel. But in taking him into her highly defended, buttressed walls, she has unwittingly given him secrets that will enable him to betray her. What would she do if she were ever to find out who he really is…?
Good book. I really liked Isobel and her independence and strength. She was determined to protect her people, in spite of the odds against them. When she rescued Marc from drowning she knew it would be a mistake to take him to her keep, but she did it anyway. There was something about him that drew her to him. She decides to treat his wounds then send him on his way, as she knows better than to trust any strangers. Two months later he is back, leading a force that is to capture the keep for the Scottish king. Because of his time there he is able to find a way in and captures the keep and Isobel. He takes her to the king, where she is expected to choose a husband. There are people at the court who would rather see her dead, and Marc has vowed to protect her. He has his own enemies also, and sees no way for him to win Isobel for himself. I really liked the way that Marc was determined to help Isobel be safe at court, and did his best to help her navigate the treacherous ways. She was smart enough to follow his advice, though there were a couple of occasions when she followed her own rules. I really loved the action at the end, and how they both got what they wanted.