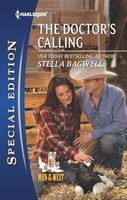 Series: Men of the West (Book 24)
She'd never thought she had a crush on her grumpy boss -- but when Russ Hollister announced he was leaving his vet practice, the thought of not seeing him every day struck Laurel Stanton hard. Then his next proposal -- that she move with him to a ranch and continue to be his assistant -- made her rethink everything….
For Russ, to focus on the horses and cattle on the Cantrell ranch was the chance of a lifetime. But suddenly, facing a day without lovely Laurel's patience, smile and soothing touch would be pure purgatory. He'd made her one offer -- but should he make her another?
Very good book. Laurel had been Russ's assistant for five years. When he announced his move to the Cantrell ranch she was stunned, and stunned again when he asked her to go with him and stay on as his assistant. She had noticed his sexiness before, but had no intention of getting involved with him. Once they made the move to the ranch and started working Russ started paying more personal attention to Laurel. It wasn't long before he made his intentions clear - he wanted a permanent relationship with her. She fought against the idea because of her past, and refused to be convinced. It took a couple eye opening experiences for her to realize she could love and be loved. I liked both Russ and Laurel. After being a workaholic for so long, he finally realized that he wanted a more balanced life with a wife and family. When he made the decision to move to the ranch, he realized he didn't want to do it without Laurel by his side. She had come to mean so much more to him than he expected, and he wanted to pursue a real relationship with her. Laurel had been deserted by her mother when her twin sister got sick and her father and brother had emotionally withdrawn, leaving Laurel the only one to care for her sister. This left Laurel deciding that there was no way she would ever open herself up to that kind of emotional pain again. She also figured that she had used up everything she had and wouldn't be able to care for a husband and children the way they deserved. Russ's love for her scared her because she didn't feel that she could be deserving of it. Russ tried to show her how much love she had to give by pointing out the care she gave all the animals she helped treat. It was a talking to by her friend Alexa and her care for a sick calf that finally opened her eyes to the possibilities. I loved the epilogue also. Can't wait to read the next book.