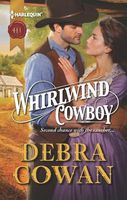 Series: Whirlwind (Book 8)
When the woman he loved vanished without so much as a farewell, cowboy Bram Ross vowed to harden his heart. He doesn't want to trust beautiful Deborah Blue again -- and she's now suspected of being an accomplice to a treacherous outlaw.
Yet trauma has erased Deborah's memory of not just her supposed misdeeds, but also her passionate past with Bram. As the murky truth about Deborah's disappearance unravels, Bram must protect her -- by keeping her very close….
Very good book. When Deborah left without even saying goodbye, Bram tried to just put their relationship behind him. When he found her injured and without any memory of her past he knew he had to protect her. He wasn't sure if she was involved in the bank robbery that she had the money from or if she was a victim, but he had to be sure. As he kept her close to protect her and set a trap for the robber he found that his feelings for her were as strong as ever. I liked Deborah very much. She was a strong woman who knew what she wanted. Before her departure she had told Bram yes to his proposal, but that she still wanted to teach the two terms she had been contracted for. They fought about that and when she left that note he was sure he'd never see her again. Deborah's memory loss was terrifying for her, but her rescue by Bram helped her. Even with her memory loss, she was still attracted to him though she didn't know why. I loved the way that she worked so hard to try to recover her memories. I also liked the way she was able to reevaluate what she wanted from life. I also liked the way that she stood up to Bram at the end to make him see how she felt. Bram was a good character too. He loved Deborah, but because of his mother's desertion when he was young he didn't trust her to stick around. Though he didn't see this as his motivation, that is why he was so set on her not taking the teaching job in Abilene. When he found her again in the dust storm and discovered her memory loss, he didn't believe her at first. As he stayed close to protect her, his feelings only grew stronger. And as her memories returned he found that she had no problem confronting him about what he was doing and why. It took his brother to explain some things to him and his realization of what he was doing for him to be able to get past those issues so they could have the future they wanted. I loved the ending when they took down the bank robber.