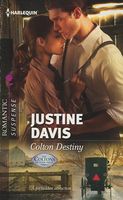 Series: Coltons of Eden Falls (Book 1)
A series of kidnappings of Amish teenage girls hits too close to home for FBI agent Emma Colton. The dark violence of her world has touched the simple Amish community neighboring her hometown -- and she's determined to make things right. Unfortunately, a forbidden attraction to Paradise Ridge's most eligible widower is a major step toward wrong.
Carpenter Caleb Troyer doesn't expect to love again, especially an Englisher with her own haunted secrets. Protecting Emma is second nature as she fights to restore the peace in his home -- and in his heart. But one false move could destroy everything. The closer she comes to finding his sister, the closer danger comes to finding them….
Very good book, first in a series. Emma has returned to her hometown to help investigate the disappearance of three young Amish girls. She has been investigating a similar problem in Ohio. When she starts her investigation she needs to talk to all the members of the community, including the families of the missing girls. When she gets to Caleb Troyer there is something about him that appeals to her. She finds herself spending more time in his company and that of his three children. I liked Emma and her determination to find the missing girls. I also really liked the respect she had for the Amish people and their way of life. She was fighting her attraction to Caleb because she knows that their worlds are too different. She also discovered as the days went on that the peace of Caleb's world was soothing her own demons from an event two years earlier. I also really liked Caleb. As a widower he was the only parent for his girls. I loved how caring he was with them, and how much he wanted them to be happy. He knows that they need a woman in their lives but is content to let the community help him with that. He feels tremendous guilt over the death of his wife, feeling that he should have been able to do something to save her. When his attraction to Emma becomes stronger and stronger he doesn't know what to do. He wants Emma in his life, but he doesn't see how they can combine their lives. I found the end of the book very interesting, even though the mystery still hasn't ended. I will be interested to see the end of the series and how Caleb and Emma get their happy ending.