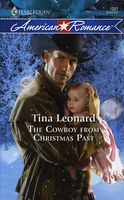 Is He Her Christmas Miracle?
Dillinger Kent is getting ready for a lonely Christmas on his Texas ranch. All that changes the night the widowed gunslinger hears an infant's wails...and is swept into a time and town definitely not his own.
After ditching her fiance at the altar, Auburn McGinnis is on the run, trying to figure out how to hold on to her family's perfume company. The rough-and-tumble stranger who just showed up with a baby girl in tow could be the hired gun -- and protector -- she needs.
At first, all Dillinger wanted was to get back to his ranch. But with the resourceful, enchanting Auburn in his life, the twenty-first century is looking better and better.
Have they both found what they're looking for? A love that transcends time?
Fun book. The subject is interesting, with the story taking place in two different time periods. Dillinger is alone on his ranch after the death of his wife when he hears a baby crying. When he opens the door and picks her up from his porch, he is sucked into the 21st century. Auburn takes pity on him and the baby and takes them home with her. He is very confused at first, but takes it in stride pretty quickly. Auburn thinks he's nuts at the beginning, but is also convinced before long. They try to find the area where his ranch would be, but are unsuccessful. Then they and the baby are transferred back to his ranch, where they deal with his wife's brother trying to kill him, and the appearance of her ex-fiance. I liked the time they spent there, and the way that Auburn adapted to the time. She was a lot better at things than she ever thought she would be. Dillinger was stunned and heartbroken when Auburn and the baby got pulled back to the future without him. I really liked the way that he worked with Pierre and Bradley to teach them about ranching, and how happy Bradley was there in the past. I loved the way that they conversation around the table went with the three men. The ending was very satisfying. I'd love to know how Bradley and Pierre did with the ranch.