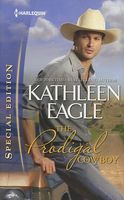 Series: Wild Horse Sanctuary

(Book 7)



A brewing political scandal in her South Dakota hometown could make TV reporter Bella Primeaux's career and save her from the human interest beat. Then she uncovers a possible connection between her breaking story and Ethan Wolf Track. The rugged rebel with a cause she remembers has matured into a man with desires that match her own -- a passion primed and ready to ignite.
In high school Ethan was Bella's unrequited crush. Now he's reformed his wild ways and is ready to take control of his life, starting with winning the big mustang competition she's been sent to cover. If only she could keep her mind on work when the sexy cowboy's around! But Ethan's guarding some secrets of his own. Will digging up the past send Bella's career into overdrive but cost her a future with the man she loves?
Very good book. Bella had stumbled on a possible political scandal and was checking that out at the same time she was doing a story on the Wild Horse Sanctuary. She also encountered her old high school crush Ethan Wolf Track, who has grown up to be a really sexy guy. Ethan is training a horse for the big mustang competition that the Wild Horse is running. As they spend time together their attraction grows stronger. Ethan is also there for Bella as she works on her stories and Bella is there for him as Ethan confronts some of the demons from his own past. I really liked both Ethan and Bella. Bella had taken her opportunities and went after the career in journalism that she wanted. Now she wants a chance to do something other than the human interest stories she's been stuck with, and the rumors of political misconduct are just what she needs. When she meets Ethan again the attraction burns hot right away. Ethan came to her rescue at the beginning and then again on a story he accompanied her on. He was dismayed at the danger she had been in. He also wanted to spend more time with her. He liked her attitudes and the way she went after what she wanted. He also found that she was a restful person to be around in their downtime. When the story that she was working on turned up a connection to him it helped him put a nightmare to rest. I liked the ending with the results of the contest, and seeing characters from past books. I've enjoyed the Wild Horse books and hope there will be more of them.