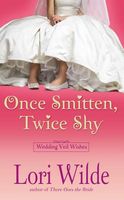 Series: Wedding Veil Wishes (Book 2)
Legend claims this antique Irish wedding veil can grant your heart's deepest desire. But be careful what you wish for...
Wedding videographer Tish Gallagher is at the end of her rope. Her business is about to go bust. She's just spent her last buck on nonreturnable (but oh so fabulous) shoes. And her most sustainable relationship is with a pint of Haagen Dazs. So she makes a wish on the lucky wedding veil to get out of debt...and sees the man she never stopped loving, her ex-husband, secret service agent Shane Tremont. Sure, their chemistry was off-the-charts sizzling hot, but their clashes were legendary, and no amount of longing will change that.
When her dream job of recording the first daughter's wedding appears out of the blue, Tish knows it's her only shot to get out of the red. Just one teensy glitch: Shane is the groom. From the moment they see each other, she knows nothing's changed--the same old black magic is still between them, as irresistible and potent as ever. But he's promised to another and Tish has been burned before. Will she always be...ONCE SMITTEN, TWICE SHY?
Good book. Tish is trying to figure out how to save her business. She needs to work a good wedding to get herself out of debt. After making a wish on the magic wedding veil, she gets asked to film the wedding of the president's daughter. She is thrilled and heads out to meet the bride and groom. The bride is sweet and innocent and will film like a dream. So will the groom, who is rugged and hot - and her ex-husband. She has never stopped loving him, but can't forgive him for his withdrawal when she needed him most. Shane can't believe he is going to have to deal with Tish, who always tied him in knots, but who also betrayed his trust. As they are constantly thrown together by his fiancee, their attraction becomes harder to resist. They also realize that they are not the same people that they had been during their marriage, but it's too late to do anything about it. When Tish is attacked, Shane knows there is something going on that he is missing and needs to find out. The mystery is solved in the end, and they get their happy ending. I liked Tish, though he refusal to face her pain is irritating. That is what caused her to lose herself in her shopping addiction and created some of the problems between her and Shane. Shane's refusal to show his emotions and live up to his father's unrealistic expectations also added to their issues. If they had just been able to talk to each other, things would have worked out better. But they both needed the space to grow and face their demons. The president's daughter was a bit of an airhead, and very naive. It was her throwing Shane and Tish together that helped them, but ended up showing her that she and Shane were not meant to be together. I was glad to see that she did have the maturity to end things. Overall a fun book.