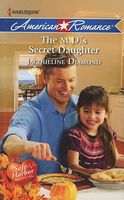 Series: Safe Harbor Medical (Book 9)
What were the odds of Dr. Zack Sargent turning up at Safe Harbor Medical? Nurse Jan Garcia's former fiancé would be on staff here -- and assigned to work closely with her as she launches the hospital's new egg donor program. It's more than a little awkward.
Years ago, a terrible misunderstanding tore them apart. And now Zack, a widower raising his young stepdaughter alone, learns that Jan secretly kept the daughter -- their daughter -- he thought she'd given up for adoption.
Zack has become the kind of steady, caring father both girls need, and he and Jan can't ignore the sparks that still fly between them. But to become a family, they must learn to trust each other again. Could two little girls and two stray cats be enough to bring them back together?
Good book. I liked Jan, even though she hadn't told Zack about keeping their daughter. When circumstances caused her to have to move in with Zack and his stepdaughter, things got very interesting. Zack was stunned to learn about his daughter and was intent on getting to know her. With she and Jan moving in, this gave him a chance to get to know her. Zack and Jan were also getting to know each other again. They both had issues that they needed to deal with. Zack had to forgive Jan for not telling him about keeping their daughter. He also needed to learn to be less rigid in the way he did things. Jan needed to forgive Zack for not standing by her when they were first engaged. At the end, Zack finally learned to actually hear what Jan was telling him and they were able to settle their pasts and move on together.