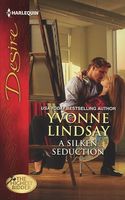 Series: The Highest Bidder (Book 3)
London-based artist Avery Cullen refuses to sell her late father's art collection. But bold, brash Marcus Price will try everything to get her to reconsider. He even launches an all-out sexual siege on the lonely heiress in the gilded cage.
Securing the collection would be a coup for his auction house, but for Marcus, it would settle a lifelong score. He's managed to keep his true motives hidden along with his family's skeletons…and now he's so close, he can taste success in Avery's kiss. But after their torrid night of passion, is Marcus prepared for the outcome?
Good book. Marcus has come to London to try, yet again, to get Avery to sell her father's art collection. It would be a great thing for the auction house, and put him on the road to becoming a partner. There is also one particular painting he wants for himself - one that has great sentimental value to his family. Avery doesn't want to sell the collection. It is something that meant a lot to her father and she is clinging to that memory. When she meets Marcus face to face there is an immediate attraction there. She offers to help him with a project for his boss if he will help her find a statue that used to be in her garden. As they spend time together working on these projects, their attraction grows along with deeper feelings. Circumstances cause them to marry, and shortly after that Marcus's skeletons come out to cause a rift between them. I loved the resolution of her search, and Marcus's realization of what is really important. I liked both Marcus and Avery although I frequently wanted to smack him. Marcus had a bit of tunnel vision when it came to the painting he wanted, and that caused him to keep secrets he shouldn't have kept. Marcus had gone to great lengths to overcome what he saw as negatives in his childhood, not understanding that they made him the man he was today. These "secrets" ending up costing him Avery's trust, which was hard for him to regain. I liked Avery a bit better. Her father had been emotionally distant after the death of Avery's mother and this caused some self esteem issues with Avery. Marcus was good for her in that he saw her for the wonderful person that she was. She knew she was falling for him, but sensed that there were things he wasn't telling her. When they came out she felt betrayed and it took someone else pointing out the things that made her love him should cause her to give him a second chance. I did like the final scenes when they made up.