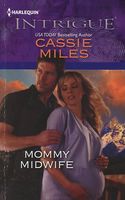 Series: Midwife (Book 3)
Staying several moves ahead has kept Troy Weathers alive in the world's most explosive hot spots. So when this Marine learns that Olivia Laughton is being stalked, he immediately takes her and their unborn child on the run. His instincts tell him it will require more than skill to keep them safe -- and to prove just how much he wants to stay in their lives.
Olivia has no problem trusting Troy to keep her safe, or following his orders. It's believing their one night together was more than just a passionate fling that seems riskiest of all. Still, with time running out and an unsuspected enemy closing in, Olivia knows Troy is her best chance at survival…and their baby's only shot at a promising future.
Very good book. Ever since he found out she was pregnant with his child, Troy has been proposing to Olivia on a regular basis. When he came to visit her, he discovered she was being stalked and went into super protector mode. Olivia is a very independent woman and doesn't care to be thought of as Troy's responsibility. But she has no problem letting Troy protect her, especially when things really start to go bad. I really liked both Troy and Olivia. As a midwife, Olivia is used to having to think on her feet, and she is able to handle these events with no trouble. It also helps that she is the daughter of diplomats (who are also operatives). As a special ops Marine, Troy is also very good at what he does. He isn't sure if Olivia's stalker is personal, something to do with her parents, or something to do with him, but nothing is going to stop him. I loved the way that, as the days went on and they spent time together, Olivia and Troy actually spent time getting to know each other and discovering how much they had in common. Olivia quickly came to realize that she was in love with him, but wanted a real marriage not a forced one. One thing that bothered her was the dangers of his job, but she wouldn't ask him to leave it. Troy knew he cared for Olivia. He had recently begun to realize that he wanted more out of his life, like a wife and family, and was really looking forward to the arrival of the baby. He just had to convince Olivia. The action in the book was very good. I enjoyed seeing how the various players worked together, and the concluding action showed it very well. My only complaint (again/still) is that Harlequin editors still don't capitalize the word Marine.