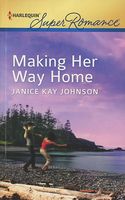 A child is missing. The words chill Detective Mike Ryan and bring to mind memories of his own tragedy.
He'll dedicate every resource he has until the girl Sicily is found, safe…and alive. His investigation hits a snag with Sicily's aunt and guardian, Beth Greenway. Beth's cool demeanor is at odds with the situation, making him suspicious. She's definitely hiding something. But the more time he spends with her, the less he believes that something is about the missing niece. And with all that contact, Mike sees Beth's vulnerabilities. Suddenly, he wants to protect her, even while he wants to know her secrets.
As the search hits one roadblock after another, Mike's dedication intensifies. He needs to bring Sicily home for Beth…but also for the future he wants with them.
Very good book and incredibly emotional. Sicily disappeared while she and her aunt Beth were at the beach. When Mike arrived to question her, he was disturbed by how cool and calm she seemed to be. He senses that something isn't right and keeps pushing her with his questions. As he keeps coming back to her for more information he begins to feel that she isn't behind the disappearance. He is also there as the mask starts to slip and sees the vulnerable woman underneath the control. As he learns her secrets he wants to protect her as much as he wants to find Sicily. I really liked both Beth and Mike. Beth had overcome terrible abuse as a child, and as a result had learned to hold her emotions in rigid control, never getting close to anyone. She was stunned to find herself with custody of her niece, not knowing if she was capable of raising the child. Her terror at Sicily's disappearance caused her shell to begin to crack. She was angry when she realized she was under suspicion, but eventually understood why. She was also relieved when she discovered that Mike was determined to find Sicily. Because of the intensity of the time they spent together, they got close very quickly. She was able to tell Mike of the abuse she suffered which was a great relief to her. When she was able to confront her parents during the search, Mike stood by her. Her pain over Sicily's disappearance, the reliving of her childhood, and the ups and downs of the search were so emotional it was at times exhausting just to read it. I really liked Mike too. He came off as really cold at first, but it was his job to find out if Beth was a suspect. His gut said no, but he had to be sure so he kept pushing. The other problem that he had was that as time went on he began to really admire her. Then his feelings got even stronger. This put him in a hard place, because he had to remain objective. I loved the way that he wouldn't give up on either Beth or finding Sicily. His compassion for Beth in helping her talk about her abuse, then just being there for her was very moving. And the way that he was able to track down the guy that had taken Sicily said a lot about his persistence. I loved the way that they admitted their feelings at the end, but admitted that they needed to take more time with each other. I also liked the scenes from Sicily's point of view and seeing how she was handling her abduction. I would have liked an epilogue that shows them a year or so later.