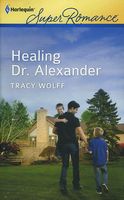 This was not his professional plan. Dr. Jack Alexander -- dedicated surgeon and humanitarian -- never expected an accident would end his time in the O.R. Nor did he expect to have to abandon his aid work. Now, back in Atlanta, he's faced with rebuilding his career...his life. And his hope for the future comes from the least likely source -- the little family next door.
From the first moment he spots Sophie Connors having a water fight with her young sons, Jack is captivated. She defies all of his assumptions about family and relationships. Too bad she resists committing. Somehow he has to change her mind. Because together they may find that life doesn't always turn out the way you planned...sometimes, it turns out even better.
Very good book. We first met Jack in In the Beginning, when he was instrumental in bringing Dr. Amanda Jones, to save her life. Now it is his turn to come home. While working as a surgeon in Somalia, Jack was shot, injuring his hand in such a way he can no longer do surgery. Now he is in Atlanta, working at Amanda's clinic, trying to figure out who he is and what to do with the rest of his life. All he can really see is what he can't do, which makes him feel less of a man. When he moves in next to Sophie and her two boys he doesn't expect anything of it. But from the beginning he is drawn to the little family. The boys bring a sense of fun back into his life, and Sophie begins to awaken feelings he never anticipated. Sophie also had no intention of getting involved. Something she saw in Jack called to her, and she found herself making friends with him first. It wasn't long before their friendship turned into more. But Jack was still suffering with a lot of insecurities due to his injuries and found himself overreacting to some things with Sophie. I loved the way that Amanda called him on his idiocy, and how he finally saw the light. The end was very emotional and really made the story feel even more real.