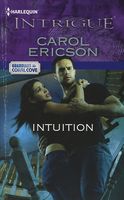 Series: Guardians of Coral Cove (Book 3)
Two dark purposes prompted Kylie Grant's return to Coral Cove and its nefarious Victorian mansion: solve the mysterious disappearance of a young girl and find closure for her own complicated past. What her psychic abilities hadn't prepared her for was an encounter with sexy bad boy Matt Conner.
It was his first assignment as a P.I., and Matt needed this job to show he was nothing like his hometown reputation suggested. Mysterious and alluring, Kylie was a complication he didn't count on -- nor were the death threats against her. Working together, all day and all night, was testing every professional skill Matt was determined to prove. And challenging every private desire he was finding impossible to ignore.
Very good book. Kylie had come back to to Coral Cove to come to grips with her mom's death and to investigate the disappearance of a young girl. She didn't expect to run into Matt, who had fascinated her when they were in high school. She certainly didn't expect to end up working with him. Matt was also investigating the disappearance, and didn't need the complication of being around Kylie. It didn't take long to realize that someone didn't want them there, and that someone was out to get Kylie. I liked both Kylie and Matt. Kylie is very good with her psychic abilities and has used them before to solve crimes. This one is personal because she also feels there is a connection between it and her mother's death. I enjoyed seeing the way she worked and how she made the connections. She also felt her attraction to Matt very quickly, but also felt that it was interfering with her psychic connection. She had some trust issues with Matt because of his earlier reputation, and also because of the way her mom always used to warn her against people. Matt was really terrific too. He wanted to solve this first case as a PI to live down his teenage reputation and also to redeem himself from his problems as a cop. I loved the way he was able to accept Kylie's abilities and work with her to solve the case. I also liked the way he was protective of her. His mistake in not telling her of his past came back to bite him, but he was able to redeem himself. I'm really looking forward to the next book to see who is responsible for the main mystery.