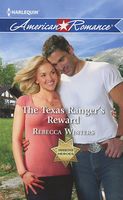 Series: Undercover Heroes (Book 3)
Is He Seeing Double?
He can't believe his eyes. When Travis Stillman meets Melissa Dalton, it's as if he's seeing the ghost of his late wife. That explains why his young son warms to Melissa so quickly. The orthopedic therapist is working wonders to help Casey readjust after an accident-his boy has come alive again. But that's no reason for this former Texas Ranger to let his guard down as he settles into life as a P.I. and single dad. No woman can replace his wife-especially not one who could be her twin.
And when Melissa hires him to investigate a break-in at her family's cabin, he's even more determined to ignore the growing attraction between them. Now he's got to protect both Melissa, and his heart.
Very good book. Travis is at his wit's end trying to help his son recover from a broken leg. Casey refuses to walk on it or give up his crutches. As soon as Travis took him to Melissa, he started to improve. Travis was surprised to see Melissa's resemblance to his wife and was sure that Casey was reacting to that. Melissa didn't want to be anyone's replacement and they decided they wouldn't be seeing each other again. Then her family's cabin was broken in to, and they engaged Travis's firm to investigate. During the investigation Travis and Melissa spend time together and discover that they are getting closer. Melissa really likes Casey and has enjoyed being with him and Travis. I liked both Melissa and Travis. Melissa was really great with the kids she worked with. Her biggest worry in being with Travis was that he wasn't seeing her but his dead wife. I loved the way she was supportive of his job because she knew how much he loved it. I thought Travis was really great too. He was determined to give his son the best life he could. I also enjoyed seeing him work and the way his mind worked. The rescue of Melissa up at the cabin was fantastic. I also loved seeing the guys from the previous stories and how well they were doing. I also enjoyed the way they were able to help Travis see how he really felt about Melissa.