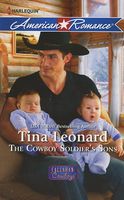 Series: Callahan Cowboys (Book 8)
Soldier. Cowboy. Father. Husband?
Hired to work the Callahan brothers' New Mexico spread, Shaman Phillips doesn't know what to do about the stunning blonde he finds on his porch…except haul her into his arms. Turns out Tempest Thornbury wants to share more than just the returning soldier's out-of-this-world kisses. She wants to have Shaman's baby!
Tempest came home to turn her not-so-hot past into a better future. The sexy, broody military man's bringing that dream one step closer to reality -- she's got twin boys on the way. At Shaman's insistence, she agrees to marry him…and remain his lawful wife for one year after their sons are born.
But once he's officially a father, Shaman can't let Tempest head back to Hollywood. It's time for this lonesome cowboy to join the ranks of those Callahan cowboys -- and open a new chapter in all their lives!
Good book. Tempest came back to visit a friend and try to make her future a better one than her past. She was not expecting sexy cowboy Shaman Phillips. They acted on their immediate attraction and enjoyed their nights together. She thought that when she finally decided to have a baby, Shaman would make a great father. She ended up pregnant with twin boys. Shaman insisted on marriage. When Tempest was threatened by her half brother, Shaman sent her away to keep her safe. He didn't want her going back to Hollywood, but to keep her with him. Shaman and Tempest were okay, but not my favorite characters of this series. They seemed to spend a lot of time talking around each other. Shaman knew that being with Tempest made him happy, but never expected to fall in love and want to get married. When she got pregnant, he was stunned at how happy that made him, and immediately got her to marry him. He made it more of a business proposition instead of telling her that he loved her, so she didn't know how he really felt. He sent her away to keep her safe without telling her why, which made her feel unwanted. For being such a macho cowboy type, he also seemed to have some serious self esteem issues, and didn't believe someone like her would want to be with him. Tempest was still trying to overcome her crappy childhood, and had trouble believing that Shaman actually wanted her. She never seemed willing to stand up to him for what she really wanted until the end. It seemed like she kept running away. I was glad to see that they finally talked to each other and told each other how they felt. The epilogue was good.