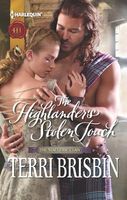 Series: MacLerie Clan (Book 1)
Ciara Robertson has loved formidable Highlander Tavis MacLerie all her life. She watched, brokenhearted, while he married and lost another. Now, finally of marriageable age, Ciara throws her heart at his feet….
Tavis knows that innocent Ciara thinks she's in love with him -- but she deserves better. Painful experience has proved that he's a far better warrior than husband, and he's determined never to marry again.
Her dreams shattered, Ciara accepts another man's hand. Ordered to take Ciara to her husband-to-be, Tavis is tormented -- and tempted -- every step of the way….
Good book. Ciara had known Tavis since she was a child and had loved him the whole time. When she was a child he had been kind to her and as she got older they became friends. Tavis fell in love and married another woman who later died. He swore then that he would never marry again. Ciara went to him and told him of her feelings but he told her they weren't possible between them. She needed to marry so she accepted another man. Tavis was assigned to lead the men taking her and a friend to visit the other man and his family. On that trip he finally started to see her as a grown woman and to realize his feelings for her. They arrived at the Murray's home, spent some time there where Ciara began to get to know James. On the way back home Ciara realized her love had matured, but now she was committed to James. I really liked both Tavis and Ciara. Ciara's love for Tavis had been real for all those years, though it had changed from an innocent friend-like love to a true love. When her love was rejected by Tavis she finally gave up and decided to try to find love elsewhere. She consented to the match with James that would benefit her clan. On the trip to his home she started to see changes in the way that Tavis looked at her, but he would do nothing about it. Her time getting to know James made her realize that while she might be content with him she would never love him. Tavis was wonderful too. He had sworn never to marry again because he felt responsible for his wife's death. He had always kept up his friendship with Ciara, even when he withdrew from other people. The trip to James's home made him realize that his feelings for Ciara had changed, but he felt that she was far above him and therefore out of his reach. She was wealthy and educated where he was not. It was hard for him to see her with James, but he knew it had to be. The more time they spent together on their travels the stronger their feelings grew. By the time they got home for the wedding, Ciara was ready to experience the kind of love Tavis could give her, and begged him for the experience before she entered a loveless marriage. I knew they would end up together, but how it happened was terrific. I could see the result coming, but I really enjoyed the method. I'm looking forward to seeing more of the MacLerie clan.