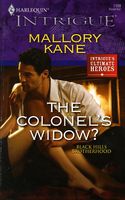 Series: Black Hills Brotherhood (Book 3)
HE'D COME BACK FROM THE GRAVE TO PROTECT HER
In her nightmares, Irina Castle relived the horror of witnessing her husband's murder. For two years she'd grieved his death while running Black Hills Search and Rescue -- and privately searching for him. Then he emerged from the shadows and was in her life again...leading her to question everything she'd once believed about the man she loved.
Rook Castle, a former air force combat rescue officer, had "died" to protect Irina from a terrorist. He couldn't fault her for not trusting him when he returned on a mission to keep her safe from the danger that targeted her again. Nor could he resist the passion that even death could not erase.
Good book. Rook had faked his death in order to protect Irina from an international terrorist. His body had never been recovered, so she had spent the last two years searching for answers - which brought her back into danger. When he reappeared in her life to try to keep her safe, she was stunned and furious. Once again she felt that he was holding back on information, not telling her everything that was going on. This gave her the feeling that he could not trust her, which hurt her and angered her. Their attraction was still strong, but Irina felt without trust there was nothing to build on. Rook was a protector and felt strongly that it was his job to look after Irina and protect her from the harsh realities that were his life. Having been gone for two years, he had no idea of the changes and growth she had been through. I could see that his habit of holding back information was going to be a problem, and his friends tried to tell him, but he wouldn't listen. I liked Rook, but his overprotectiveness was a real irritation to me - he should have kept Irina informed all along. I liked Irina. She was a lot stronger than Rook gave her credit for. I wish she had really let him have it rather than just going all silent and furious on him.