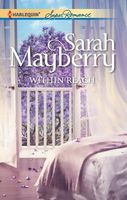 Being a single dad was never on Michael Young's agenda. Yet with the sudden loss of his wife, that's exactly the role he has. On his best days, he thinks he can handle it. On his worst… Luckily, family friend Angie Bartlett has his back, easily stepping in to help out.
Lately, though, something has changed.
Michael is noticing exactly how gorgeous Angie is, and how single she is. She's constantly in his thoughts and he feels an attraction he never expected. Does he dare disrupt the very good thing they have going? If they have a fling that goes nowhere, he stands to lose everything -- including her. But if they make it work, he stands to gain everything!
This was one of the best Supers that I have read in a long time. The book starts with Angie at her best friend Billie's house with Billie's husband and two kids, celebrating Billie's birthday. At the end of the evening Billie collapses and dies. Ten months later, Angie is doing her best to help Michael. Both of them are still reeling from Billie's death, but Michael is still walking around in a fog and his family is suffering for it. Angie steps in and works to get Michael back to the land of the living. She doesn't tell him to "get over it" she is just there to help him do what needs to be done to move forward. When they start to notice each other as more than friends, both are filled with guilt and self disgust. This was one incredibly emotional book. The way that their grief was handled was very realistic to me. The slow developing of their feelings for each other was natural. They decided they would do nothing about it in hopes that it would just fade away. They continued to behave as friends, but the underlying tension was there and just kept intensifying. They finally gave in to the passion, but tried to convince themselves that it was physical only. Unfortunately the guilt was still tearing Michael up, and he was still certain that he would never love another. When Angie realized that she had fallen in love with Michael and knew that he would never be able to love her the same way she had to put distance between them. I was so impressed with Angie's compassion for Michael and the kids. She always seemed to know exactly what was needed. Michael was a character that just kept tugging at my heartstrings. He was so incredibly lost when Billie died that just making it through the days was a struggle. When his daughter pointed out to him, and later Angie, just how many ways he'd dropped the ball, he realized he had to make changes. He was furious at Angie's suggestions at first, but then realized that she was right. He still considered himself Billie's husband, even though she was gone and his attraction to Angie made him crazy with guilt. As the weeks went on, the guilt remained but he found himself happier than he'd been. When they began to enjoy their physical relationship, he spent time trying to come to terms with it and ended up just taking it day by day. When Angie broke things off, telling him that she'd fallen in love with him and knew it wouldn't go anywhere he was stunned. It took him days to realize that he had fallen in love with her and to figure out what to do about it. I loved the way they resolved their issues. I shed a lot of tears in this book, especially in the last few chapters. There were some great scenes with Michael's daughter and the way she opened her father's eyes.